VPRSN Recovery Education
Special Event: Intentional Peer Support Core Training
VPRSN Recovery Education:
Intentional Peer Support Core Training
Save the Date!
March 11-15, 2019
Richmond VA
IPS Core Training (5 days)
For nearly twenty years, IPS has been inspiring and training people in community, peer support, and human services settings all over the world to be intentional about the way they connect and build mutual relationships.
Based on Shery Mead's book, Intentional Peer Support: An Alternative Approach, our Core Training is a 5-day introduction to this innovative framework and is designed to have you practicing right away. In a highly interactive environment, participants learn the tasks and principles of IPS, examine assumptions about who they are, and explore ways to create relationships in which power is negotiated, co-learning is possible, and support goes beyond traditional notions of "service." IPS is all about opening up new ways of seeing, thinking, and doing, and here we examine how to make this possible.
The IPS Core Training is for anyone interested in mutual support and has been widely used as a foundation training for people working in both traditional and alternative mental health settings. Specific topics covered include: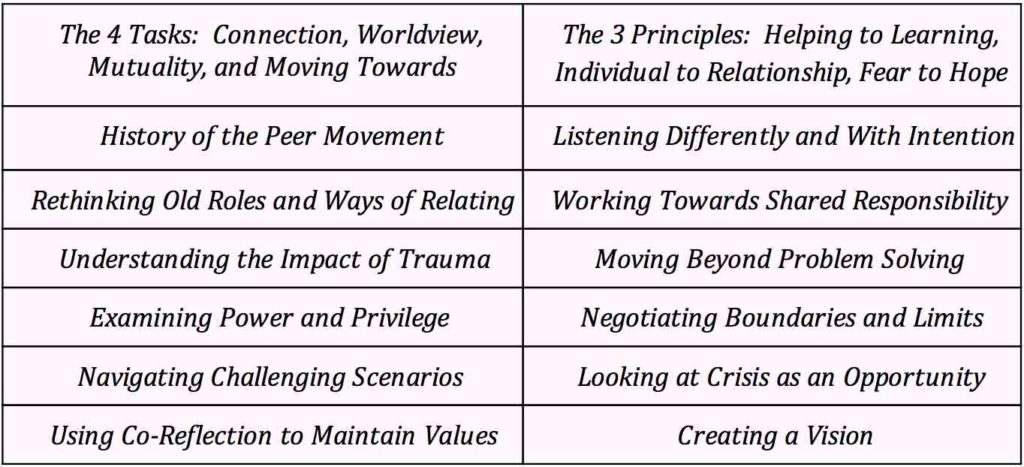 During the Core Training, participants learn to:
Seek ways to connect, become aware of  disconnects, and work to reconnect
Explore how we have "come to know what we know"
Strive for mutuality in relationships
Stay curious, question assumptions, and own judgments and opinions
Open up new ways of listening
Use experience to relate and build trust
Name and negotiate power in relationships
Approach crisis as an opportunity to grow
Share risk and responsibility
Focus on the quality of relationships instead of fixing one another
Pay attention to the impact of clinical and labeling language
Understand how trauma affects lives
Keep the energy in relationships moving towards what we want
Understand peer support in the context of social change and social justice
Stay tuned for more information!