Headed for Heaven, Goodbye Hell
What kind of headline is that?!? Glad you asked. It wasn't for shock value. You see it is exactly the nature of peer recovery specialist work. We are all on several journeys in this life. The journey of relationships. The journey of health and wellness. The journey of self-discovery. The journey of eating more chocolate. I digress. 
Heaven, in this context, can be many things. A brand new job. An old behavior kicked to the curb. A brand new behavior started. A new love relationship. An older relationship experiencing mended fences. 
Conversely, and unfortunately, hell, in this context can be many things. Loss of a job. Loss of a loved one. Experiencing bullying. Passed over for a promotion. A scary health diagnosis. So, to the title of this blog, some of them seem positive and 'heavenly'! Others feel awful and, for lack of a better word, feel like 'hell'. 
The old saying is true: Ignorance is bliss. I remember when it dawned on me as a younger human that pain was going to be a more consistent participant in my life even though I was a nice guy who never caused pain, any pain. How dare pain single me out? I used to make this protest in my head at least once a second*. You just experienced literary exaggeration. You're welcome. "Painful" jokes too! 
To be fair, I also experienced a lot of bliss. My first rock concert. My second rock concert. My third…there's a pattern emerging here. Receiving peer services. Being a PRS and giving back. The love of family and friends. Ice cream. Need I say more?
When we work as a PRS, we have the opportunity to enter into another peers life journey. And we have the privilege of witnessing their 'heaven' but most of the time something more akin to their hell. Still, light shines in the darkness. Good overcomes evil. Support builds safety, trust, and vulnerability. And a rightly timed word or bearing witness through active listening to a confession has massive power to change lives from hell to heaven. And that's the point. Forget hell. It's overrated. Heaven is much better. Belinda Carlisle proves it when she sings,
"Ooh, baby, do you know what that's worth?
Ooh, Heaven is a place on Earth
They say in Heaven, love comes first
We'll make Heaven a place on Earth"
 So go now, and share heaven with someone who needs it. Help them shut the door on their own personal hell. They will thank you for it and I thank you in advance. 
~Chris~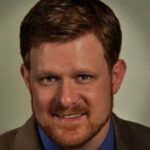 Chris Newcomb
VPRSN Coordinator
Chris Newcomb, M.Div., PRS, CPMS, CWF, CSSF is the VPRSN Coordinator on behalf of Mental Health America of Virginia. He holds a Bachelor in Psychology from Radford University and a Master of Divinity from Duke University. In his spare time, he is a singer/songwriter who loves to write new songs, practices Krav Maga, and enjoys time with family and friends.