Myths Surrounding Vulnerability Part 2
Sshh. Fun Fact: I was not planning on writing a second blog article about vulnerability. I just did not want to be more vulnerable with you, dear reader. See what I did there? BOOM! Never saw it coming, did you?
After writing last week's blog on vulnerability, I was inspired to write more on the subject. As mentioned in our first installment, it's risky to be vulnerable and with risk comes the potential for things to go sideways. And, of course, there are the accompanying fears and worries that come with self-disclosure and vulnerability. Yes, as I said before, while often scary, being vulnerable, I would argue, is when we are really alive.
In our previous conversation about vulnerability, I shared 2 salient points by Brene Brown from her seminal work Dare to Lead: Brave Work. Tough Conversations. Whole Hearts which is also the text for our new virtual VPRSN Facebook book club* The two points we considered last week from the text where:
"You can't get to courage without rumbling with vulnerability. Embrace the suck."
"Self-awareness and self-love matter. Who we are is how we lead."
We talked about how "embracing the suck" is really about embracing suffering. And we found that being self-aware and choosing self-love no matter what we find inside will have great effect on our personal health and wellness as well as our ability to lead other peers into their own vulnerability as is safe and appropriate.
Now let's focus on this gem from that book
"Vulnerability sounds like truth and feels like courage. Truth and courage aren't always comfortable, but they're never weakness."
As peer recovery specialists, when we sit with another peer, we are providing a safe place for them to be vulnerable, should they choose, and grow in their courage. After all, getting to the truth or the crux of the matter is the touchpoint for change. The peer who listens must be courageous enough to just listen and not try to fix, to witness and not edit a person's story or experience, to encourage and lift up and at times to carefully and respectfully present 'truth' for consideration by the peer they are supporting. Peer recovery services exist to fan the internal flames of courage inside a peer looking to change their life.
How can you be more vulnerable in your own life and work? What steps can you take when you have that next conversation with a peer you are supporting? Is there a part of your story you know you need to share with that peer but are afraid to do so? What would it look like to do some internal work on yourself for yourself to grow in your own personal and professional vulnerability.
Tough questions. No easy answers. Worth asking? Absolutely. Worth finding? Priceless.
*Email me if you want to join our virtual VPRSN Facebook book club at [email protected], we'd LOVE to have you.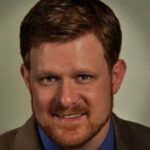 Chris Newcomb
VPRSN Coordinator
Chris Newcomb, M.Div., PRS, CPMC, CWF, CSSF is the VPRSN Coordinator on behalf of Mental Health America of Virginia. He holds a Bachelor in Psychology from Radford University and a Master of Divinity from Duke University. In his spare time, he is a singer/songwriter who loves to write new songs, practices Krav Maga, and enjoys time with family and friends.