If you did not read my last blog post, I will never speak to you again. Wait? I never spoke to you in the first place. Dear Reader, allow me to apologize and introduce myself! I am the author of this blog. My last blog title was a play on words called "Accepting Acceptance". A little clever, perhaps? Possibly annoying? So, I thought, well, why not do it one more time! Thus, "Resenting Resentment". Enjoy. 
Why a blog about resentment? What does it have to do with the profession of peer support? 
Resentment is defined as , "bitter indignation at having been treated unfairly." Now, I know no one has ever experienced such a thing in our beautiful rose-colored world (insert eye roll here). Wow, the sarcasm is thick in this article. It's Wednesday. And since, we agree, that actually, everyone has been treated unfairly in some way, shape or form, then we can agree that the potential for resentment is pretty high amongst humans who also happen to be peers. 
And therein lies the premise of this blog. Peers experience resentment. Resentment is normal. But resentment is not healthy. Below is a quote from Hazeldon Betty Ford that really drives home the truth about resentment. It says, 
"It's revealing to look at the word itself. "Resentment" is close to "re-sentiment"—"sentiment" meaning "feeling" and "re" meaning "again." So, resentment is literally "feeling again." This gets to the heart of resentment: recycling old negative feelings or revisiting old wrongs done to us by others. It's as if each of the offending incidents is captured on videotape in our minds. Resentment, in effect, is mentally replaying the scene countless times each day. As we do so, real wrongs grow worse, and wrongs that are merely imagined assume a life of their own.This mental habit extracts tremendous costs. After all, resentment does nothing to change the person we resent. Nor does it resolve conflict. Instead of freeing us from the wrongs of others, resentment allows those people to dominate our thinking—a kind of emotional bondage." **
So, when we work with peers, resentment will often be a key component to their story. It's not for everyone but it is for many, many peers. I think dealing with resentment in the context of peer work comes down to these three steps.
Listen without Prejudice (George Michael did). It should go without saying but active listening has the power to bring healing to the person speaking. Listening without prejudice is even more powerful. 

Share. Where appropriate, consider sharing your own struggle with resentment and how you have learned to recognize, accept, and even take action to resolve resentment in your life. 

Brainstorm. Together discuss the cause of the resentment, the feelings attached, and then explore possible solutions to deal with the resentment the peer is struggling with inside. 
Ultimately, it is up to the individual who is feeling resentful to decide to become less resentful or even better never pick up resentment again the rest of their lives. As peer recovery specialists, we can walk alongside the peer in need and facilitate a conversation that can open new perspectives through mutual understanding around this important recovery principle. 
We know this about resentment. It makes you miserable on the inside. Resentment and anger are best friends. They hang out together A LOT! I'll close with this bridge from the song "The Heart of the Matter" by Don Henley. As you read this bridge, think about any resentments you may struggle with or the resentments of the peer(s) you are working with and how these words may be of service to them. Henley sings,
"There are people in your life who've come and gone,
They've let you down,
You know they hurt your pride,
You better put it all behind you babe, cause life goes on,
You keep carrying that anger (read: resentment)
It'll eat you up inside baby"
Fun fact: That song went to #2 on the Mainstream Rock charts in 1990. Read that again. A rock song that mentions the idea of resentment went to #2 and was played all over the radio and MTV, a channel that often played videos in between stupid shows (no resentment here). 
**https://www.hazeldenbettyford.org/articles/twelve-steps-of-aa-teach-people-to-live-without-resentment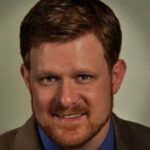 Chris Newcomb
VPRSN Coordinator
Chris Newcomb, M.Div., PRS, CPMS, CWF, CSSF is the VPRSN Coordinator on behalf of Mental Health America of Virginia. He holds a Bachelor in Psychology from Radford University and a Master of Divinity from Duke University. In his spare time, he is a singer/songwriter who loves to write new songs, practices Krav Maga, and enjoys time with family and friends.