The Importance of Confidentiality in Peer Support Part 2
"Secrets die in safety" – Anonymous
"I hear the secrets that you keep, when you're talking in your sleep" – The Romantics
Last week, we took a look at the importance of confidentiality when delivering peer recovery services. We discovered the gifts of confidentiality. There are many. So many, in fact, that I needed to write a second article which I happen to be happy to do for you.
As we saw last time, if confidentiality is broken, trust is shattered, vulnerability goes back behind the walls of emotional 'stiff-armed stance', to use a football term, and the healing process breaks down. Therefore, let's continue with more information to inform your work as a peer recovery specialist!
1. It protects intellectual property. This may seem weird, at first, but please hear me out. I know a peer who approached a new author book consultant about turning their recovery journal entries into their first book and it contained sensitive information that needed to be considered before publishing. That peer discussed that specific potential book content with another peer before speaking with the book consultant. It was crucial for the PRS to keep that information private and confidential until appropriate decisions were made. Remember, our "recovery credibility", if you will, comes from our lived experience, and that can be on the written page just as well as verbally expressed.
2. It protects personal security. For example, releasing unauthorized confidential information can be used to harm a peer's personal security by allowing an abuser to find a peer who is trying to escape an abusive situation.
3. It promotes service integrity. As previously discussed, peers are more likely to share their story if they know that their personal information will be kept confidential. However, let's flip the script, so to speak, and consider confidentiality from the peer-run organization's perspective as it relates to service integrity. Word of mouth can sink a business in seconds. Peer-run organizations are not exempt from such situations. Practicing strict confidentiality helps a peer-run organization rise to the top and stay there for years to come. Reputation is everything. It can take years to establish and seconds to destroy.
4. It honors the peer who shares. Providing peer support models to the peer seeking recovery a glimpse into what a more healthy relationship can look like. Healthy relationships honor intimate details. Many peers have never had that experience. To honor and hold space for a peer in recovery is, dare I say, a sacred event. To know one has been heard and the content of their share is honored and protected is a gift beyond comparison.
5. It's the right thing to do. Every peer has a right to privacy, and peer recovery specialists need to respect the privacy of the peers they serve. By keeping confidential information confidential, we are doing the right thing.
While they may not know it intrinsically, the peers you serve appreciate your attention to strict confidentiality. You are giving them a gift of safety. That is immeasurable.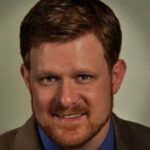 Chris Newcomb
VPRSN Coordinator
Chris Newcomb, M.Div., PRS, CPMC, CWF, CSSF is the VPRSN Coordinator on behalf of Mental Health America of Virginia. He holds a Bachelor in Psychology from Radford University and a Master of Divinity from Duke University. In his spare time, he is a singer/songwriter who loves to write new songs, practices Krav Maga, and enjoys time with family and friends.