"Whatchu Talkin' "Bout Willis?"
or
How to Effectively Give and Receive Feedback Pt. 1
Ah, the glorious days of 80's TV! Game shows. Dramas. Soap Operas. Special reports. Interviews with Walter Cronkite. A myriad of viewing options were available to me as a kid. But, I preferred sitcoms. Ever wonder what that word means? Here you go, I'm shattering that myth right now:
"A sitcom, a portmanteau [where multiple words are combined into one new word. Think 'smog' = smoke + fog] of situation comedy, or situational comedy [i.e.sitcom], is a genre of comedy centered on a fixed set of characters who mostly carry over from episode to episode. Sitcoms can be contrasted with sketch comedy, where a troupe may use new characters in each sketch, and stand-up comedy, where a comedian tells jokes and stories to an audience. Sitcoms originated in radio, but today are found mostly on television as one of its dominant narrative forms. A situation comedy television program may be recorded in front of a studio audience, depending on the program's production format. The effect of a live studio audience can be imitated or enhanced by the use of a laugh track."
Spoiled! Spoiled, spoiled I do say! Everything sounds better in British, but I digress. Admittedly, I had no idea what sitcom meant until a quick copy and paste from Wikipedia. It's ok, I just credited them. And, I feel cheated. Laugh track? Come on! I thought there actual people there!
One of my favorite sitcoms was called "Diff'rent Strokes". Now, another confession, I never noticed until right now that the title of the show was missing the letter "e" in "Different". A clever way to misspell a word in order to suit the title by being an expression of the meaning of the very title, i.e. a different stroke would be an apparent misspelling into diff'rent strokes sans E.
The main characters, if you remember, were the Caucasian Dad Phillip Drummond and his daughter Kimberly and then two African-American boys who were adopted by Mr. Dummond. They were Arnold and Willis Jackson played by Gary Coleman and Todd Bridges, respectively.
One of the most famous lines in the show was when "Arnold" played by Gary Coleman would furrow his brow whenever his big brother Willis would tell him something he didn't understand or didn't like or both. And he would say, "whatchu talkin' 'bout Willis?" And people loved it. It became a part of the larger culture of the 1980's!
And it directly relates to peer support. How? In peer support, we share our experience, strength and hope with other peers to help support them through their different challenges and struggles. Oftentimes, this can include sharing a viewpoint that could be interpreted as negative or critical or both. And that can cause someone to shy away from being honest about their life.
Enter: the title of this blog, namely, how to effectively give and receive feedback. Here we go.
7 Components of effectively giving feedback:
Safety – in this context, asking permission from the peer you are supporting if they are open to receiving some feedback that may be pertinent and helpful to their situation. Asking them puts the power in their hands.
Compassion – reiterate to them that you hear their story and their pain and in your peer support you want to support them in reducing their suffering.
Empathy – let the peer know that you understand their emotions and that you can vicariously feel those similar feelings in light of their pain.
Honesty – be honest in sharing your feedback but allow components 1-3 to be a buffer from metaphorically hitting people with the truth. The truth can be difficult to hear and delivered in an honest, kind and safe way goes miles in helping a person .
Vulnerability – if you can, to encourage mutual support and understanding, see if you can give a similar example in your own life that the peer could relate to in a positive way.
Support – Duh. You are already doing it with components 1-5. Keep going! And, crucially, after an important conversation assuring the peer that you appreciate and accept them just as they are, that you are not disappearing from their life and that you will continue to be a support for them through this process.
Encouragement – I think this without doubt is non-negotiable. An apt word at just the right time can alter the course of a person's life forever either positively or negatively. I had a teacher tell me at the end of my senior year in high school that the world was going to be a better place because I was in it. Now, 3 decades later, I'm still telling that story.
That about wraps it up for this blog. Stay tuned! Next week, I'll dive into 7 components of how to receive feedback. Until then, spread the famous line to anyone you meet using the conversation starter, "Whatchu Talkin' "Bout [insert persons' name here]?" Exception: don't use it when giving peer support unless you explain it so the person feels safe.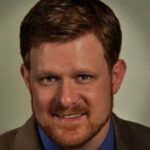 Chris Newcomb
VPRSN Coordinator
Chris Newcomb, M.Div., PRS, CPMC, CWF, CSSF is the VPRSN Coordinator on behalf of Mental Health America of Virginia. He holds a Bachelor in Psychology from Radford University and a Master of Divinity from Duke University. In his spare time, he is a singer/songwriter who loves to write new songs, practices Krav Maga, and enjoys time with family and friends.