YOTP 2023 Conference Recap
By the time you read this, the Year of the Peer 2023 Conference will have come to a close. I am sitting in the Omni Hotel in downtown Richmond for the 2nd day of the conference. It's been great, thus far, for everyone else. For me? Not so much. Don't get me wrong, I've had a blast seeing friends I already know and making new ones. The speakers, programs and breakout sessions have been wonderful.
I have been looking forward to the conference to help raise awareness about the VPRSN and our offerings. Moreover, I was looking forward to capturing video from so many of our peers. I had signs created for people to hold and be in photos and videos. We even had a t-shirt made to look the part.
All of it was great (and still is) until, for me personally, I lost my voice. Gone. Poof. See ya. This has been a problem. How was I supposed to recruit folks for pics and videos when I could barely talk? How was I supposed to get the message out about the VPRSN and invite new peers into the group without a voice? How could I encourage the community when my voice had been silenced?
My mission, and my awesome job, is to make connections with peers as it pertains to the VPRSN Facebook group where we share resources, build community and encourage and support each other in the work of peer support. We have a video interview feature series called Meet the Member Monday putting faces to names so everyone can get to know one another better in our VPRSN FB group. In addition, we have a monthly podcast called Peer into Recovery where we discuss important topics, trends, stories of recovery and how all of it pertains to and fuels the fires of growth of the profession of peer support.
And without my voice these past 2 days, here is what I know. Peers don't quit. We don't run. We don't hide. We look reality dead in the eye. And we stop, pause and stare back at what reality sends our way. So, as I am sitting here this morning typing this out, someone just called out my name and I can't respond, I will respond in this blog…good morning!
They say that the pen is mightier than the sword. True statement. Words are powerful. And I've heard a lot of words this weekend. Words of encouragement. Words of truth. Words of hope. Words of belonging. Words of friendship renewed. Words of new friendships begun. Words of thoughtfulness. Words of curiosity. Words. Words. Words. And, while my words may have been temporarily "silenced", still my fingers do the walking and, therefore, the talking all over this keyboard to report my observations about this event.
My impression is this: The YOTP movement is just the beginning of something wonderful that will continue to blossom because of who we are as a people and as peers. We have something to say. A lot to say, actually! The YOTP 2023 conference was a big success in my estimation. It was great to see so many peers coming together from all across the Commonwealth. If you weren't able to make it this year, we missed having you. Please join us next year, I am cordially inviting you now to be on the lookout in the VPRSN FB Group when those dates are announced. For now, it's over. In this case, "over" means "begun".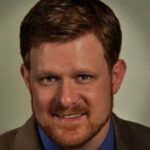 Chris Newcomb
VPRSN Coordinator
Chris Newcomb, M.Div., PRS, CPMC, CWF, CSSF is the VPRSN Coordinator on behalf of Mental Health America of Virginia. He holds a Bachelor in Psychology from Radford University and a Master of Divinity from Duke University. In his spare time, he is a singer/songwriter who loves to write new songs, practices Krav Maga, and enjoys time with family and friends.